VISION Vocation Network Sponsors
Order VISION Guide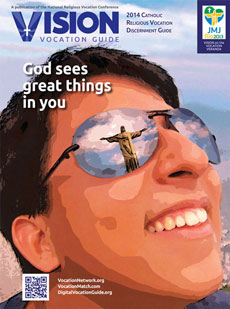 ---
Because of the support of our advertisers and sponsors we are able to provide the following award-winning vocation resources for free. Please use wisely and distribute widely.


VISION 2014 issues ARE NO LONGER AVAILABLE. We do have 2014 bookmarks available.

You can place an order for your free print copies of the 2015 VISION Vocation Guide which you'll receive in August 2014.*
FREE BOOKMARKS (multilingual) are available. Distribute to students, vocation fair participants, Confirmation classes, and have handy in parishes and campus ministry offices.

NOTE: Print copies of VISION Guide are shipped to the U.S. and Canada only. For other areas, please view current and archived issues online at DigitalVocationGuide.org.


*On the form below, please specify the number of copies you'd like to receive and the shipping address. Please include a street address (no P.O. boxes) for orders over 2 copies. VISION is free with shipping and handling included in the first 100 copies ordered. A $30 shipping fee will be added for every 100 copies ordered after your first 100 copies.

---
VISION Vocation Network Sponsors
Vocation Network Sponsors